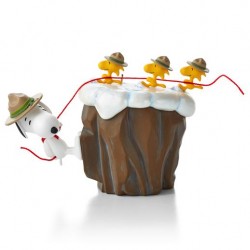 It is August 1st, and that means this year's new Hallmark Keepsake ornaments are in the stores and ready to sell. Beagle Scout Snoopy and his friends once again make an appearance as the Scouting series continues. This year captures the Beagle Scout as he  climbs to the top of the mountain with the help of Woodstock and his friends. It is a fitting theme when you think about how popular rock climbing has become with Boy Scouts and how many summer camps now feature climbing towers.
Unfortunately, it is not one of my favorite Beagle Scout Snoopy ornaments. To me it looks like the characters are climbing a piece of frosting covered chocolate. Maybe the characters are climbing a gigantic s'more instead of a mountain! That would be quite tasty. The sticky marshmallow topping would make the climb a little easier, or would it make it worse?
Anyway, I bought two when I was in the store today. One will actually be used on the tree, and one will be stored away as part of my collection. I believe this is the seventh Beagle Scout ornament in my collection. Here are my articles from the previous years:
Campfire Fun 2007
Beagle Scout Day Out (canoeing) 2008
A Spooky Story 2009
The Fearless Crew 2010
Holiday En-tree-preneurs (selling Christmas trees) 2011
Salute The Flag 2012
Beagle Scouts Rock! (this year's)
http://www.hallmark.com/products/general/keepsake-ornaments/beagle-scouts-rock-1495QXI2175_DK/
It looks like you may have to find a store to buy it. The Hallmark website does not to seem to include it as an online purchase. Will you be picking one up for yourself or that special Scout in your life?