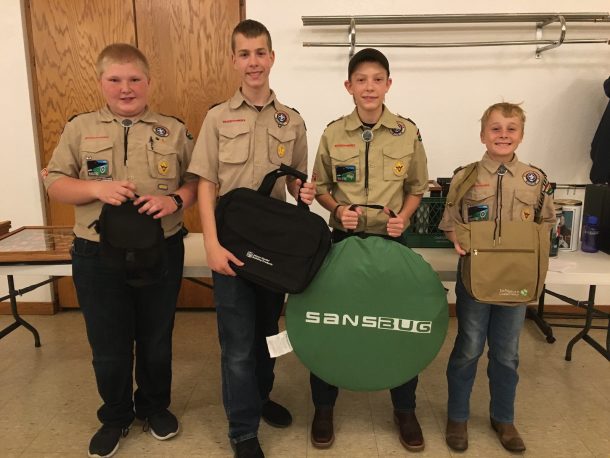 The Melrose Scout Troop 68 fall supper fundraiser is now a part of history. The troop did well and the Scouts and parents did a good job during the meal. One of the keys to having a successful fundraiser is to have the Scouts sell tickets for the event ahead of time.
Thanks to a few donations the troop had some prizes for the top ticket sellers. We did have one requirement toward the prizes. In order to qualify, a Scout had to sell at least $200 worth of tickets before the event.
We originally had three items to give away. We had a field bag, a soft sided briefcase/laptop bag, and a Sansbug pop-up mosquito netting. A few days before the supper we had another donation of a book bag to add to the prizes.
The first place seller would get his choice of one of the prizes. The second place seller would get his choice of the three remaining items. Third place would get to choose from the final two items, with forth place seller receiving the final prize. It is fun to watch which prizes are chosen for the first two places.
Six Scouts qualified by selling over $200 of tickets. The photo shows the four top sellers with their prizes. Trevor was the fourth place seller, Hayden took third, Austin was second place, and Ethan took the first place spot. Both Austin and Ethan sold over $300 worth of tickets, with a little help from their parents.