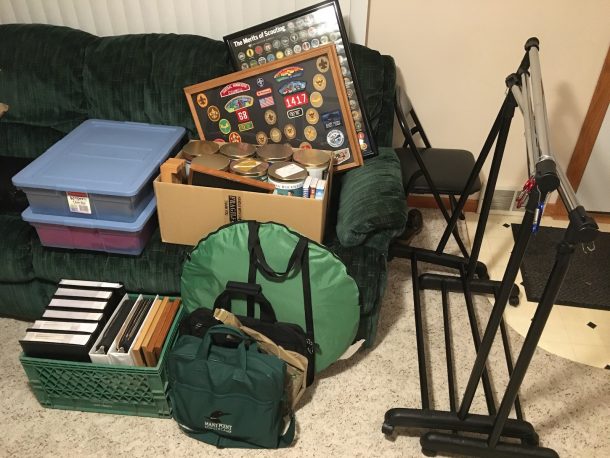 Melrose Scout Troop 68 has held two meal fundraisers per year for over three decades. During the last few years the troop has held a breakfast in the spring and a supper in the fall. This fall's meal will be held tonight, October 25, at the Melrose American Legion. The spaghetti supper will be served from 5:00 to 8:00.
One of my jobs during the fundraiser is to plan and set up a Scouting display for people to view before and after their meal. The display features items I have collected over the decades and photo albums of the troop activities. Last night I gathered the materials for tonight's display.
The background of the display will feature the two patch blankets I made with the patches I collected during my thirty years serving as the troop's scoutmaster. I plan to cover two tables with items. The photo albums will use a large portion of the tables but I also plan to show a merit badge poster and a shadow box of Scouting ranks. Scouting themed popcorn tins will serve as centerpieces on some of the tables. Handbooks, framed photos, and a few miscellaneous items will finish the display.
I did not set up the display at home before packing it into the car, but I have a good idea what I want it to look like when it is set up at the Legion. Stay tuned for an upcoming article which will show you what it looked like when it was finished.
Do you set up a Scouting display at your fundraiser? What do you include with them. Leave a comment and let us know.