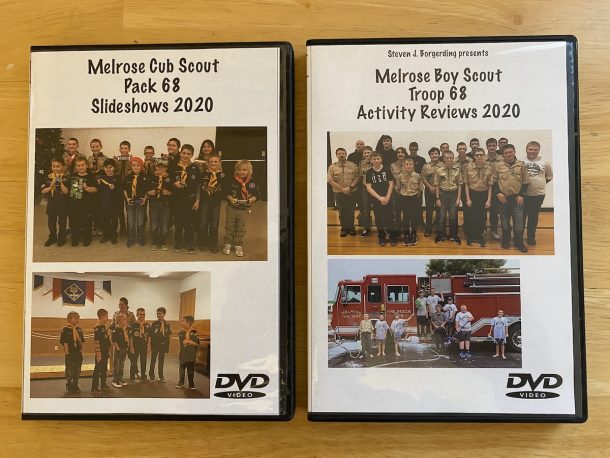 It is that time of year. It is time to make the DVDs for the Scouts of Troop 68. Not that is a requirement by any means. But it is kind of a tradition that I began once I started taking digital photographs. It was easy to take the digital photos, convert them into slideshows, and burn to a DVD, so why not share them with the troop?
This year, for 2020, I decided to make an annual dvd for both the troop and for the Cub Scout Pack. The Cub Scout DVD will contain four slideshows featuring the January Pinewood Derby, and the February, July, and October Pack meetings. The Boy Scout DVD will contain 6 slideshows featuring activities, troop meetings, and a special advancement outing.
The Boy Scouts will receive a bonus DVD featuring this year's Egg Drop Competition held at Camp Watchamagumee in June. I just recently got around to editing the footage so I thought it would make for a nice surprise.
Every year at this time I keep asking myself if I should continue to create these videos, and every year I seem to keep doing them. The first one was done in 2003, so that means this is the 18th year. I have often wondered if anyone ever takes the DVDs off their shelf to watch them years later but I have talked to a few people, especially parents, who like to go back and watch them once in awhile.
I usually hand these out to the Scouts at the troop's Christmas party but, of course, due to the virus we will not be holding the annual event, so I may need to drop them off at each Scout's home. Luckily we live in a small town.
Does your troop do something like this each year? Do your troop families enjoy watching them?