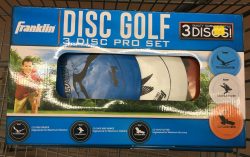 The Boy Scouts of Melrose Troop 68 like to play disc golf. They enjoy the game so much that they have added it as an activity to their yearly program for a few years. They also enjoy playing a round if a course is available at a camp they are staying at over a weekend.
The troop was first introduced to the sport in 1981 while attending summer camp at Crow Wing Scout Reservation which was located near Nevis, Minnesota. There were not any baskets found on this nine hole course, just round wood posts with a small numbered sign located near the top of each. Instead of trying to throw the disc into a basket we needed to hit the post to complete a hole.
Each spring the troop spends a weekend on some private land north of Melrose that the Scouts call Camp Watchamagumee. They will usually set up a course in the woods and use trees as the "holes". Yellow cation tape is used to mark the trees and is removed as the boys complete the course.
On Saturday, March 24th, the Boy Scouts of Troop 68 will be holding this year's disc golf marathon. Instead of traveling to the St. Cloud metro area as they have done for the last few years, the Scouts have decided to visit a course they have not played for awhile, and try two newer courses in central Minnesota.
The course in Albany, located about twelve miles from Melrose, is a nine basket course with 18 tee pads, so it can be played as an eighteen hole course. This course has been around for several years so a few of the Scouts have already played this course.
The course in Long Prairie was installed a few years ago. It is a nine hole course the winds its way through a wooded park located on the south side of town. This will be the first time the troop will play on this course.
The third course is a brand new one installed last year in the small town of Upsula. This nine hole course was an Eagle Scout project so it may have a special meaning to the Scouts as they play a round on it.
The Scouts will be keeping their scores as the play in this year's marathon. They will play eighteen holes in Albany, and nine holes at the other courses. The scores will be added at the end of the day to discover the best overall score of the day. The three Boy Scouts with the best scores will each win a set of three disc golf discs. Although the adults will be playing alongside of the Scouts they will not be eligible to win the disc sets, but they could still earn bragging rights.
Do the Boy Scouts of your troop enjoy the sport of disc golf? How often does your troop play the game?