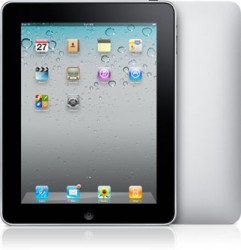 It is a gadget I would like to get, but I do not have one yet. Even my mother would like to have one after playing with the one my sister-in-law owns. I am sure many of you would like one if you do not already own one. What am I talking about? The iPad, of course. It has been available for nearly a year. I decided to see if there were any apps available for it. There are several apps for the iPod Touch after all. (Yes, I realize that iPhone apps also work on the iPad, but I wanted to see apps specially made for the larger format.)
When I typed "Boy Scout" into the iTunes search box it came up with 21 apps for the iPod Touch and iPhone, but only seven for the iPad. There were only five iPhone apps for "Cub Scout"  and three for the iPad. Type "Scouting" into the search and you get apps for Boy Scouting and sports. When you narrow it down to just Boy Scout or Cub Scout apps we have ten for the iPhone and four for the iPad.
Two Cub Scout based iPad apps that caught my eye were "Pack Badges" ($3.99) and "Pinewood Derby" ($1.99). The Pack Badges app allows you to track advancement requirements for the Cub Scout awards and several special awards, and it allows you to track multiple Scouts. It has received a 4.5 star rating from its users. The Pinewood Derby game app allows you to build a Pinewood Derby car and then race it. There seems to be some problems with it though. Users only gave it a two star rating and complain about it crashing a lot.
Two Boy Scout related apps that caught my attention were "Camping Manual" ($2.99) and "Troop Badges" ($5.99). The Camping Manual app is exactly what it says. It is a manual with lots of all season camping tips. It has not yet been rated  enough by its users to earn an average. Troop Badges is similar to Pack Badges in that it allows you to track multiple Boy Scouts through their advancement progress. It has earned a four star rating.
I have not used any of these apps, yet. I would like to hear from those of you who have. Are they worth the money? Should I download them when I finally purchase an iPad? Do you have a favorite Scouting app that I have not listed? Has the BSA produced any iPad apps yet? Let me know.