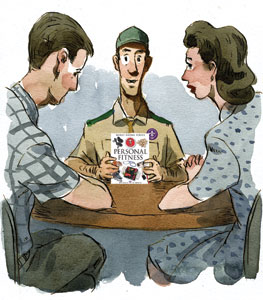 It is fun looking around the internet and finding comical views about Scouting. Here are a couple that may make you think you should cut back on your Scouting time. You have been in Scouting too long if…
You don't mind losing power to your house for three days.
You gave your wife a mummy sleeping bag rated for -15 deg F for Christmas, and it was the nicest gift you have given her.
You bought 10,000 shares of Coleman stock on an inside tip that they are about to release a microwave accessory for their camp stove line of products.
You can not eat eggs anymore unless they are cooked in a zip-lock bag.
You were nearly arrested by the airport security because you would not give up your official BSA pocket knife until the security guy said "thank you."
You decide to lash together that new deck for your backyard.
Do you now of any others that should be added to this list?