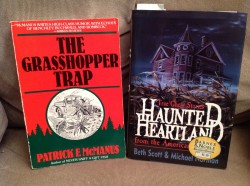 The phone call surprised me Saturday night. The disc golf Tri-O was completed and the Boy Scouts of Troop 68 had left my house for their overnight camping trip. I was sitting at home watching television, thinking about going out to the campsite for a little while. The phone call was from from the acting senior patrol leader for the weekend. He was wondering if I would be joining them for supper, and if I would bring the book with the ghost stories. The Scouts wanted to hear a story or two while sitting around the campfire.
I knew which book to which he was referring. It was a collection of true ghost stories, Haunted Heartland, by Beth Scott and Michael Norman. I had mentioned this book on an outing earlier this year. Since this weekend was the weekend before Halloween I guessed the Scouts were in the mood for a couple stories of the supernatural variety.
I decided to grab two books when I left the house. In addition to the Haunted Heartland I also grabbed The Grasshopper Trap by Patrick F. McManus which is a collection of humorous stories. I thought it might be best to add a comical story or two between the scary ones since there were a few young new Boy Scouts on the campout.
The two stories I read from The Grasshopper Trap were Mean Tents and First Knife. During Mean Tents we followed a history of tents used by McManus during his camping activities, including a tent he and a childhood friend made from old gunny sacks. The Boy Scouts got a good laugh from that one. They also chuckled through the story about his First Knife that he received from his parents on his eighth birthday.
The first story from the Haunted Heartland was The Phantom Miner, a story about a terrible mining accident that happened on the Minnesota Iron Range, and how one of the victim's ghost stopped the mine from reopening. The second story was Windego Of The North, a tale of a mythical humanoid creature occasionally seen in northern Minnesota. A sighting of the Windego foretold of a death that was soon to follow.
The Boy Scouts enjoyed the stories but I think I should have only read two, or maybe three at the most. The boys were getting a little antsy by the end of the last story.
Seven years ago I posted an article to this blog referring to campfire stories as "television of the mind". Saturday night's story time once again proved my theory. Even teenagers enjoy hearing a good tale told by fire light.
http://www.melrosetroop68.org/blog/?p=43
Both books referred to in this article can be found on Amazon or maybe even at your local book store. Check them out. Your Scouts will enjoy them.