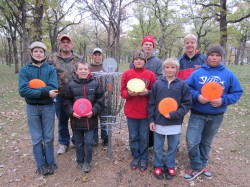 I think the first time I ever played disc golf was in 1981 at Crow Wing Scout Reservation near Nevis, Minnesota. I was a 20 year old assistant scoutmaster attending camp with the Boy Scouts of Melrose Troop 68. It was their first time at a week long summer camp. The troop was only a year and a half old.
The Crow Wing disc golf course did not have any baskets like most of today's courses do. Instead, it had posts in the ground that were numbered. The goal was to hit the post with the frisbee. I believe it was a nine hole course that was placed near the beach.
Over the decades the Boy Scouts have played disc golf when ever a camp presented a course to play, or when we felt like making one of our own. Courses were not found in many cities in our area during the 1980's and 1990's. Today, there are several courses found in various city parks within 30 miles of Melrose. Unfortunately, out community does have have a course so we have to leave town to play a game.
During the first few decades of the troop, the Scouts only played disc golf as an occasional activity. As more courses have been created the interest level has gone up. A few of the Scouts now own their own disc sets and have started playing more often.
The sport has become so popular with the troop that this month they held their first disc golf Tri-O. Seven Boy Scouts, along with three adult leaders, played three different 18 hole disc golf courses in one day. They left Melrose Saturday morning for the first game to be played in Albany. Since I had to work that morning I did not join in that first round. I did join the troop after lunch for the games at the St. Joseph Millstream Park course and the Riverside Park course in St. Cloud.
We all had a blast, even though there was a bit of wind, and the water hazards at Millstream Park seemed to attract our discs, as did the many trees at Riverside Park. New Scouts were introduced to the game, while older Scouts worked to improve their skills and scores. One Scout set his goal to beat my score. He was successful, beating me by 2 or 3 throws on each of the courses.
I have a feeling that disc golf will become a regular activity on each yearly program for the next few years. A few Boy Scouts were even talking about playing again as a patrol activity.
Do the Boy Scouts of your troop enjoy playing disc golf?