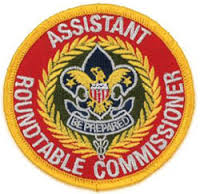 The District Roundtable. That once a month training meeting for all Scout Leaders. They are a good meetings for all Scouters to attend, filled with lots of ideas and knowledge, but in reality only a small percentage of Scouters attend them. It is really a shame.
I began attending roundtable about the time I became the scoutmaster of Melrose Troop 68 in 1981, thirty five years ago. During most of those years I was a regular attendee, maybe missing one or two a year, usually to weather issues, like snowstorms. I thought I had a very good attendance record, especially when you consider that I live 35 miles from the council service center.
I was recruited as an assistant roundtable commissioner in the late 1980's, and continued through the early 1990's. For a couple of years we even held junior leader roundtables for senior patrol leaders, patrol leaders, and other youth officers. I finally stepped away from the roundtable staff because I needed to clean my plate of a few positions. I did not want to burn out after all. I did continue to attend the monthly meetings, just not as a staff member.
A few years ago I decided to offer my assistance once again to the roundtable commissioner. Al had been running the roundtables himself. I know from experience that a helping hand not only makes things easier, but it also makes it more fun. He quickly accepted my offer and I became an assistant roundtable commissioner once again.
In May I finished my third year as Al's assistant. May is also the month that Al and I decided to retire as the roundtable staff. It was a good run, and we both had fun, but we both felt it was time for new leadership to take over.
I had an additional reason to step down from the position. I currently serve as the Cubmaster for Melrose Pack 68. The committee has decided to try moving den and pack meetings from Monday nights to Tuesday nights during the 2016-2017 program year. The Scenic District roundtable are held on the first Tuesday night of the month. I have not yet discovered how to be in two places at one time. This coming year could be the first Scouting program year that I will not attend a roundtable meeting since 1980. That is going to bit a little weird for me.
I do not know who will take over the roundtable staff positions this fall but I wish them the best of luck. It is a great experience and can be a lot of fun with just a little bit of planning.