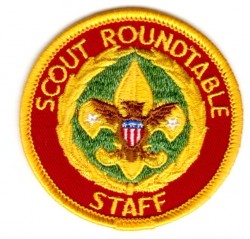 Last Tuesday was my second meeting as a member of the roundtable staff once again. I have to admit, I am having fun. And I think the Scouters who have been attending have discovered my method of roundtable training is a bit different then other peoples' methods. I do not like to just stand there and talk. I like to move around, change up my voice tone, and even get everyone up on the feet to do things. I think the roundtable commissioner likes what I have brought to the table. At least I hope he has. Here is a review of things we both covered at this month's Scenic District roundtable.
This year we start our roundtables with a two part opening, one part patriotic and one part Scouting related, and we plan to change it up for each monthly meeting. For this month we began with the American Creed and the Scout Law.
We would usually go into skill development next but since it gets dark early this time of year we switched things up and went outside for our game. Yes, you read that correctly. We played a game. The goal is to introduce troop leaders to possibly new games they can bring back to their troop to play. This month's game was Tip, played with a frisbee. The two teams tossed the disc to each other. Team members would try to "tip" the disc to other team members and then have someone catch it. The team scores one point for each successful tip, but only if the disc is caught at the end of the tipping. The Scouters had a blast playing the game and really got into it. I believe a few grass stains may have been taken home.
Back inside the meeting room, Al and I conducted a brief uniform inspection and talked about the uniform being one of the methods of the Scout program. I opened a discussion of this month's Jamboree On The Air and the Jamboree On The Internet. Many of the Scouters had not heard of these events. Al lead a discussion about the duties of a troop's junior leaders.
Before the meeting I had set up a table display of my patch collections, including OA lodge patches, council shoulder patches, and patches from the 2001 National Jamboree. I also had several old Scouting themed books set out to view. We talked about the fun of patch trading, who trades with who, and about B.S.A. policy regarding trading.
Al finished the day's skill development by discussing how to plan a troop meeting, or I should say, how the troop's junior leaders should plan a troop meeting. A few Scouters were eager to share their thoughts on this subject. We closed the roundtable with Scout Vespers.
After the meeting, I caught up with a Scouter who is a fairly new scoutmaster and asked him if he had been finding this year's meetings helpful. He said that he has been learning quite a bit and is discovering good ideas to bring back home to his troop. I walked to my car with a grin on my face. I guess Al and I are doing a good job so far.