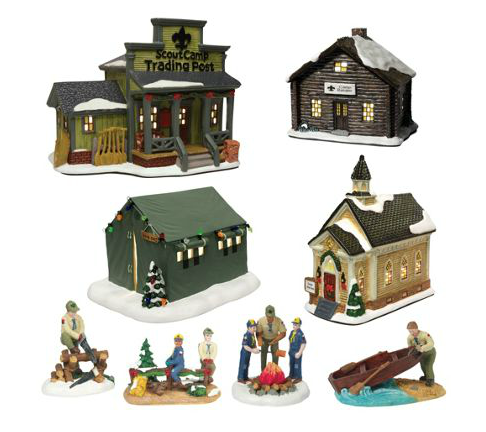 I remember when the Boy Scout stores began selling the Scouting Village pieces a couple years ago. I decided to start collecting them a little too late and missed out on getting the lighted Trading Post building. I still do not have one. When this year's village pieces became available at our local Scout Shop I bought all three immediately. I did not want to make the same mistake a second time.
I recently noticed that in addition to this year's collection pieces, scoutstuff.com has an eight piece starter set available to purchase. The set includes all the pieces from 2012 and 2013, including the lighted Trading Post. So, in other words, I can now get the piece I am missing, if I am willing to spend $80 on the whole set. Since I have all the other pieces already, I do not think I will be doing that.
I wish the scoutstuff.com website would make all the pieces available as single pieces. It is obvious they are manufacturing the pieces again, otherwise why wouldn't they have offered the pieces online earlier to clear out inventory?  I am sure I am not the only one who missed out buying a building during the last two years, or maybe I am. I does frustrate me a bit, almost to the point of thinking that this will probably be the last year I will collect the Scouting Village pieces.
It is a great idea to offer the set to new collectors, but I feel it is a slap in the face to those of us who began collecting two years ago. What do you think about it?
http://www.scoutstuff.org/set-village-lighted-8pc.html