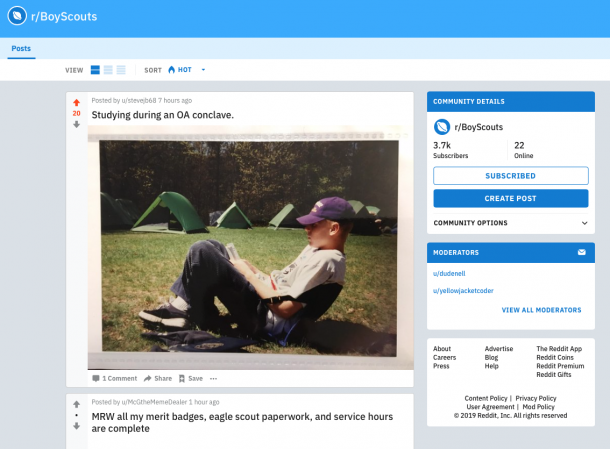 I was looking for a new social media site to join in early February. After all, Google Plus will soon be going away and the Yahoo groups are pretty much a cemetery these days. Facebook is okay but somewhat limited. I wanted a new site with Scouting groups to learn new things and share some of my stuff. That is when I came across Reddit.
I noticed Reddit had several Scouting themed groups. The was a BoyScouts group, a BSA group, and others groups including cubscouts, orderofthearrow, philmont, and scouting. A couple of them had quite a few members but others did not seem to be visited very often. Oh well, I will sign up for all of them, I thought.
I began to make a profile and quickly noticed my username was already in use. I found that to be interesting. After a few more clicks and a reset of the password I discovered I already had an account. It was created six years ago! I guess I made a profile and then forgot about it.
During the last month and a half I have been using it and testing the waters. I joined the subcategories listed above and found a couple more such as woodbadge and Scouts. I also joined a few more for good measure like disc golf, Minnesota, and a couple Star Wars groups.
Do you spend much time on Reddit? Which Scouting themed subcategories do you follow? What are some of your other favorite categories?