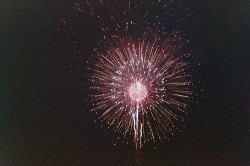 I had thought about starting one for awhile before I took the plunge. I had some thoughts and stories I thought others may enjoy reading. There were not that many about Scouting related topics. So, on May 18, 2006, I posted the first article to "A Scoutmaster's Blog."
Who knew five years ago that I would still be writing articles today? I have seen other Scouters begin blogs over the years. Some of them ended within a year, but others are still going strong.
When I started writing this blog, I just wanted to share my Scouting experiences, and maybe include interesting things I found around the internet. I had, and still have, no intention for this to be a blog about how to be a good Scout leader. The B.S.A. has already posted a lot of information for people looking for that type of stuff. I have tried to keep this blog fairly positive and (dare I say it?) entertaining.
There have been a few changes over the years. This has become the home for two podcasts: Melrose Scout Productions video podcast and Around The Scouting Campfire audio podcast. I have switched from Blogger to WordPress, but it is still hosted on our troop's website.
This happens to be the 714th post to "A Scoutmaster's Blog". There have been over 500 comments left by readers over the years. So far this year, the blog has averaged over 4500 page loads and 3100 unique visitors per month. While that may not be good numbers for ABC or USA Today, I think they are pretty decent for a scoutmaster of a small town in central Minnesota.
One of the best parts of writing this blog is the friends I have made because of it. Through the magic of the world wide web I have been introduced to other Scout leaders across the country, and even a few from around the world.
I hope you have enjoyed reading the blog over these five years. I have enjoyed reading your comments. Keep them coming. They keep me charged to to keep writing more.
Here's to the next five years!