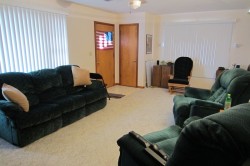 It is not a secret. Some Boy Scouts get nervous when it is time to do a scoutmaster conference for a rank. As a scoutmaster I do my best to put the Scout at ease and we usually get through it without a problem. Although there was the time when I held my first Eagle Scout conference back in the late 1980's. That young man was so nervous that he could not recite the Scout Oath, even though he had repeated it at troop meetings for over six years. Ah, the memories.
One of the Boy Scouts recently came to the house for his Star Rank scoutmaster conference. He was accompanied by his mother. It did not take long to realize that he was nervous, and that having his mother sitting across the room from him was not helping matters. In fact, I think it was making it worse.
Let me set the stage for you. My front door opens into my living room. To the right, in front of the picture window, is the sofa. Across the room are two rocking recliners. At one end of the room is a gliding rocker chair. At the other end is the television and bookcases. When the Boy Scout arrived he sat down on the left end of the sofa, near the door. His mother sat in one of the recliners. I grabbed the troop record book and sat down on the sofa to the Scout's right.
Like I said, it did not take long to realize this Scout was a little nervous. I also noticed that he kept looking at his mother as he answered several of the questions, instead of answering to me. I moved to the other recliner across the room. This helped in that he now had an easier time looking toward me but he still looked toward his mother, as if looking for approval of his answers and comments. His mother was also commenting on some of the subjects we were discussing.
I thought it might be better to make a few changes. I asked the Boy Scout if he was a bit nervous. He replied that he was. I asked him if having his mother sitting across the room was adding to his nervous. He said yes so I offered a new seating arrangement. I asked his mother to sit in the gliding rocker at the end of the room. I had the Scout sit in the recliner his mother had been using. This put the Scout between me and his mother, thus putting his mother out of his line of sight. I also asked his mother not to respond to any questions unless they were directed to her. She understood and pulled out her smartphone to play with.
The seating arrangement did help. Once his mother was "out of the picture" the Scout was more relaxed and had an easier time talking to me. He may have still been a little nervous but the discussion moved along much better. He passed his Star Rank scoutmaster conference and his now ready for his board of review.
Have you had any interesting experiences during a scoutmaster conference? Leave a response and tell us about it.