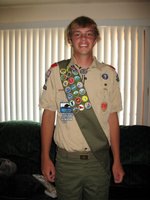 Mike called to schedule his scoutmaster conference for the rank of Eagle Scout. I had been looking forward to this call. He had finished his Eagle Project a week earlier, and his merit badges had been completed last May.
It got me thinking about this blog and the article I posted last September about scoutmaster conferences. There are a few additional points that I like to cover during an Eagle conference so I thought I would take the time to share them with you.
One of the first things we do is the uniform inspection. Troop 68 does not require a Scout to be in uniform from hat to socks, but we do require the belt, neck wear, and the shirt with all the patches in their proper place. Just as a person is expected to dress sharply for a job interview I like to see the Scout correctly dressed for his Eagle board of review and court of honor.
The Scout and I will spend several minutes talking about the merit badges he has earned on his way to the Eagle Rank. Which ones were the easiest to earn? The hardest? The most fun? Which ones did he enjoy the most? Which ones taught him the most? Why?
Holding a position of responsibility is a requirement that I like to talk to the Scout about. I not only like him to talk about the position he used for the Eagle Rank, but also discuss the other positions he has held during his tenure as a Scout. Which ones did he enjoy, or maybe not enjoy so much? What has he learned about leadership. Is it easy being a leader?
Of course, we also talk about his Eagle project. Projects seldom go as originally planned. It is interesting to hear about what did not go according to plan, and how the Scout was able to solve the problems that arose. Did he accomplish all his goals? I know the board of reviews will be covering this subject heavily so I try to prepare him during the conference.
My favorite portion of the conference is when the Scout looks back on his years in Scouting. I ask him what have been his favorite activities since joining the troop. What activities did he dislike? What are some of his best memories about Scouting? Who were the people who helped him the most during his years as a Scout? Is there anything he wished he would have done differently?
A scoutmaster needs to ask questions that are open ended, questions that require more then a simple "yes" or "no" answer. The goal is for the Scout to do most of the talking, not the scoutmaster.
As the conference comes to an end we take time to review his Eagle Project Workbook and get all the dates and information correct on his Eagle Application.
I enjoy the Eagle scoutmaster conference. It gives the Scout and myself a chance to really talk about what Scouting has meant to him. For the seventeen year old Scout it is probably the last time we will get to sit and chat about his last six years in Scouting. I just hope it will not be the last time we get to visit and chat. After all, he will soon be going off to college and begin a life on his own.