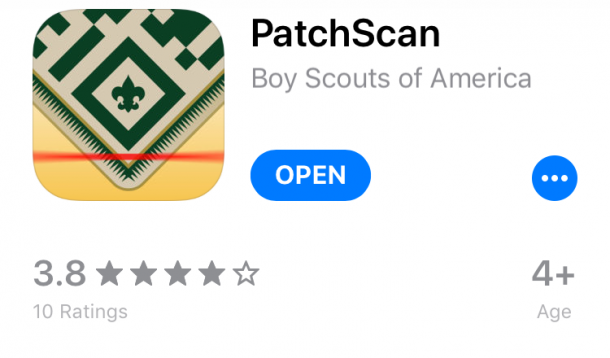 Over a year ago I downloaded an app for my iPhone that was created by the Boy Scouts of America called PatchScan. It looked like an interesting program. It was from the B.S.A. It was free! I just had to have it since it was from the National office.
I downloaded it to my iPhone and took a quick look at it. It looked like a very simple program. I scanned the code sticker on the back of an Order of the Arrow patch I recently bought. Luckily, the patch I scanned was an officially licensed patch since the app only works with officially licensed patches. That means any patches I have that are made in China probably will not work with the app, especially since they do not have a bar code.
Once the code was scanned the app displayed information about the patch that, to tell the truth, I found quite interesting. It told me who issued the patch, how many were made, the date it was issued, and the manufacturer of the patch. There was also a picture of the patch and patch detail information. This looked like it would be a handy app for a serious patch collector.
I closed the app, and then forgot about it for nearly a year. This week I opened the app to check it out once again, and scanned another patch. I really need to start scanning my patches when I get time.
Unfortunately, it does not appear to get updated very often. The last update was done over a year ago. There have only been two updates since the app came out six years ago. The app description talks about the 2013 National Jamboree but there is not a word about the 2017 Jamboree. I hate to say it, but it looks like the B.S.A. is letting the ball drop on an app that could be fun for Scouts and Scouters to use.
Have you downloaded the PatchScan app to your phone or tablet? Have you used it? What do you think about it? Let us know in the comments section.