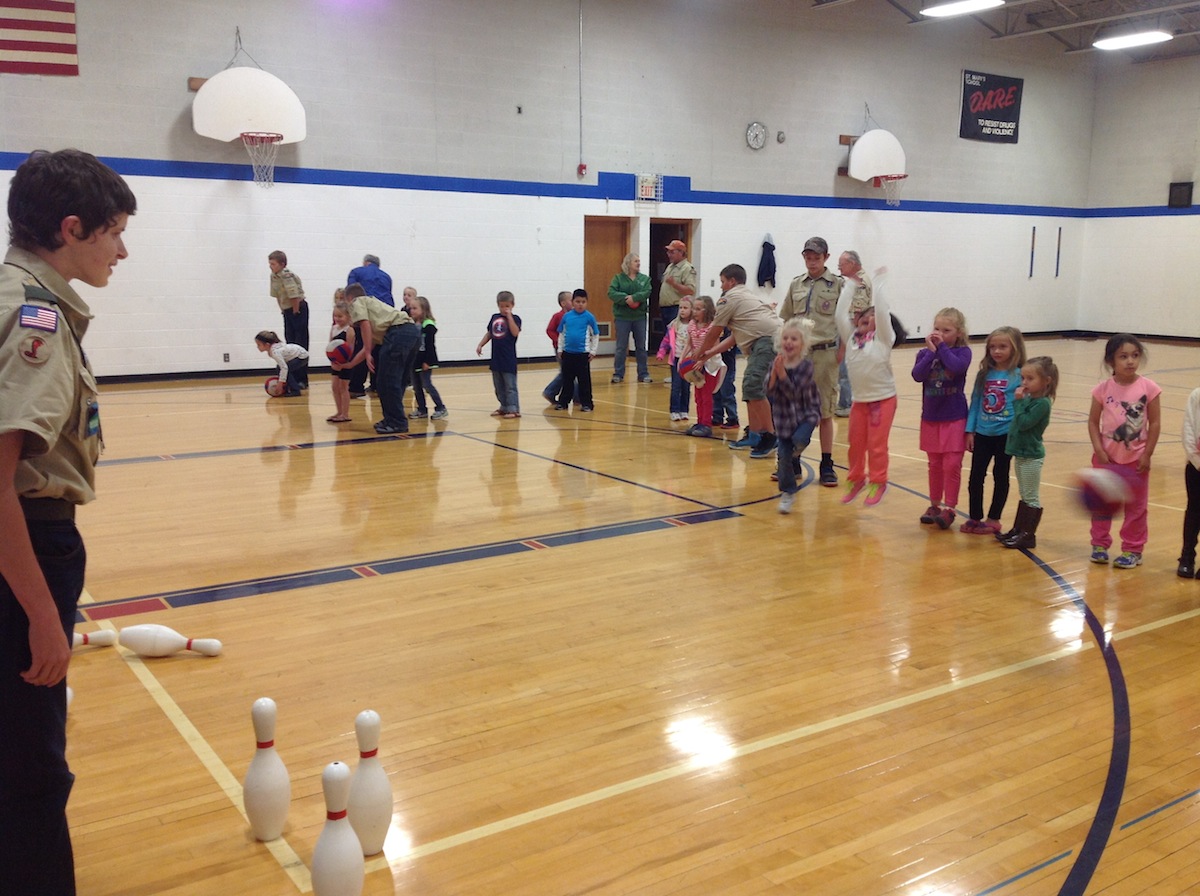 The regular meeting of Boy Scout Troop 68 began its usual way Monday night. The Scouts had an opening and then began the skill development session of the meeting. The theme was the Scout Law. It was time to review the twelve points and their meanings. Daniel, a Life Scout, lead the discussion. Scoutmaster Jim finished it by informing the Scouts they would have the chance to use several of these points during a good turn that would happen in several minutes.
The troop meets at St. Mary's School gym during the cold weather months, October through April. Monday night was the first meeting for this season held at the gym. The principal of the school had asked the scoutmaster if the troop could help with a little project. A meeting for the Kindergarten children and their parents was also being held at the school that evening. The teacher was hoping for several minutes to meet with the parents alone. Could the Boy Scouts keep these young children entertained for ten minutes during that meeting?
When Mr. Doyle escorted the small students into the gym the Boy Scouts where ready to begin the game session. I thought there would be maybe a dozen kids, but they kept coming in. More and more. The line stopped when 24 Kindergarteners walked into the gym. You could tell several of them were a little frightened by the big Boy Scouts. We did not let them think about it before breaking them up into five smaller groups and starting the game.
It was a very simple game. The kids took turns rolling balls into three bowling pins, trying to knock them over. The Boy Scouts acted as the pin setters, the ball return, and the helpers to lead the youngsters to do well. The Scouts were quite excited. When one of the little ones knocked all three pins over the older boys were the first ones to cheer and get a high five from the successful youngster. Several of the youngsters were really getting into the game. A few stayed a little shy and reserved. I think they all had fun. To tell the truth, after a few minutes it was hard to tell who was having more fun, the Boy Scouts or the Kindergarteners.
I immediately saw the photo opportunity going on so I quickly grabbed my iPad. I was busy snapping photos and even took a couple videos. I look forward to sharing the photos with the troop and the school.
After the children left and the meeting returned to normal, the scoutmaster gathered the Scouts and held a short discussion about what just occurred. Which points of the Scout Law did the Scouts practice during this visit? How did they feel about playing with this age group? Was it a good Good Turn?
I think the Boy Scouts of Troop 68 will remember this evening for quite awhile.