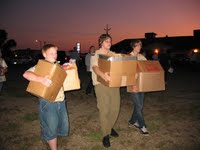 The Melrose Boy Scouts and Girl Scouts were recently invited to participate in a United Sates flag disposal ceremony by the local American Legion. Three of our six Boy Scouts were able to attend, along with one of the Girl Scouts.
The ceremony began shortly before dusk. Members of five American Legion clubs were in attendance, along with some local citizens who brought flags to be retired. The ceremony was very dignified. Unfortunately, due to the wind and my location, I was not able to hear much of what was being said.
The Scout's part of the ceremony was to unload the flags from the vehicle and present them to the American Legion members who inspected the flags before their final disposal into the fire barrel. The Scouts were also allowed to place a few flags into the barrel, which I think helped to bring the impact of the ceremony closer to home.
The local media was also in attendance. The Melrose Beacon and the Sauk Centre Herald sent reporters. The local television cable access station, Mel-TV, was on hand to videotape the event. I look forward to seeing if the Boy Scouts made it into any pictures posted in the newspapers or were captured on the video.