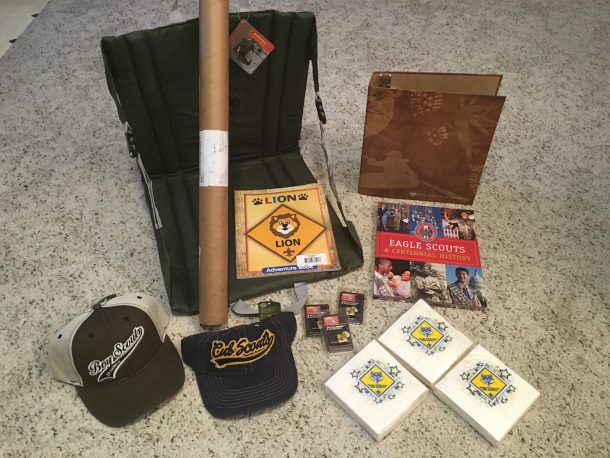 There are some days you just should not go to the local Scout Shop. If you want to save your money, that is. But than, you have to go if you want to get the closeout items, don't you? Remember the Christmas in July Sale? I went Tuesday night, and the credit card took a hit. Oh well, it is only money, right?
The Scouting stadium seat was on sale for only $14.99. I somehow misplaced mine so I needed to buy a new one. I bought the binder on sale for $3.98. I would have bought a second one if they would have had another one. The Eagle Scouts book was only $14.98. It will be a nice addition to the library.
When you do not have very much hair on your head you cannot own too many caps. I thought the Boy Scout cap would be good for troop activities. Since I will be serving as the cubmaster for one more year I thought the Cub Scouts had would be fun. Each cap was on sale for $7.99.
Speaking of being the cubmaster, it was had to turn away from the Cub Scout flashing pins. I bought all three on the hook since they were only $1.48 each. I may give one to the assistant cubmaster to wear. Mine will go on the cap I just bought. The napkins were only $2.98 per pack which makes a nice start for next spring's Blue and Gold Banquet. I have not read very much about the new Lions Cub program so I bought the packet which was only one of two things that were not on sale.
The last item is rolled up in the tube. I will tell you what it is in the next article. And no, it was not on sale but I thought it might be useful for the troop.