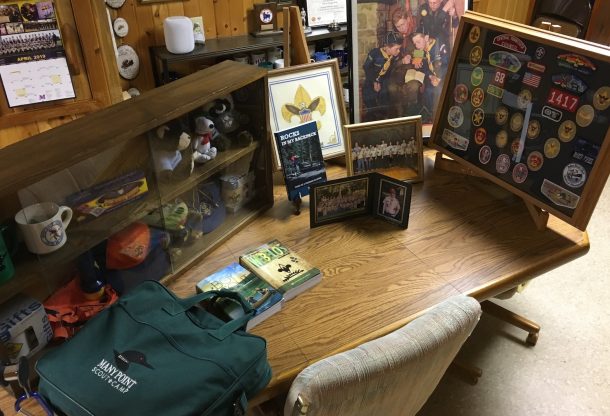 Boy Scout Troop 68 of Melrose holds two meal fundraisers each year. The spring meal is usually a pancake and sausage breakfast that includes scrambled eggs. The fall meal has been a spaghetti supper for the last few years. The troop does well with both fundraisers and is able to keep up with the yearly expenses.
The 2019 spring breakfast fundraiser takes place this weekend at the Melrose American Legion. The parents will be working in the kitchen while the Scouts take care of the tables and the dishes. I will probably do the same thing I have done for the last thirty years, pour coffee, visit with the people who come by for breakfast, and keep an eye on the Scouts to make sure they get their work done.
Another of the jobs I have, and one that I really have made my own, is to create a table top display for the meal. I began to take items out last night to prepare for Sunday's meal. As you can see from the picture I will have both Cub Scouting and Boy Scouting items in this year's display. The Cub Scout Pack has been doing well and I wanted to include something for the elementary aged children.
One item not shown in the picture is the patch blanket I plan to hang. I may even bring both of them. I do have clothing racks that work very well to display them. Add in a few photo albums and I think there will be enough Scouting memorabilia for families to view.
How often do you set up a Scouting display in your community? What do you include in it? When do you set it up? Leave a comment and let us know about it.