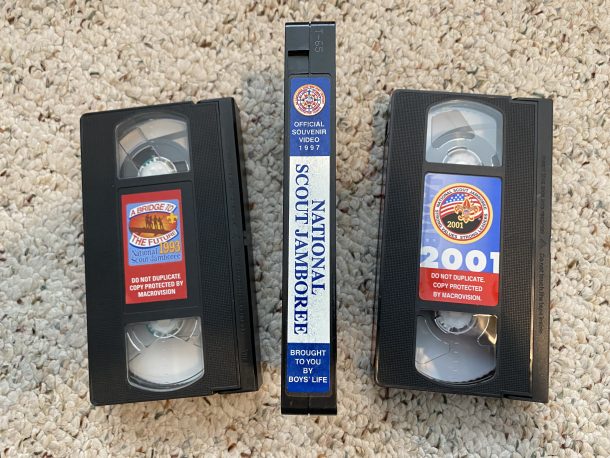 I was fortunate to be chosen as the scoutmaster of Troop 1417 for the B.S.A. 2001 National Jamboree. I had a great time at the event and shared it with a great troop of Boy Scouts and adult leaders from the Central Minnesota Council. I took home plenty of pictures and a lot of memories.
When I discovered that Boys' Life magazine had created a video on VHS tape featuring many of the events and activities I had to buy it. Yes, you read that correctly. It was a VHS tape. DVDs had just arrived on the market but had not become popular in homes yet.
If I remember correctly, I bought the program as part of a three tape collection. Each tape featured a different Jamboree. The set included the events from 1993, 1997, and 2001. All three were created by Boys' Life magazine.
I recently did a search on the Boys Life Scoutshop website and discovered that these videos are now available as DVDs. There are also DVDs available for the 2005 and 2010 Jamborees. If you wanted them all you could buy the set of 5 DVDs and save yourself a few bucks. You can find these at this link:
https://magazines.scoutshop.org/catalogsearch/result/?q=Boys%27+Life+Jamboree+Souvenir+DVD
Since I only have the VHS tapes I am very tempted to order the 5 disc set. The individual event DVDs sell for $11.95 each while the DVD set is only $40.00. That is like getting one event DVD for free!
I did not see any DVDs available for the 2013 and 2017 National Jamborees. I do not know if they made one for those events or not but there was not any listed on the website. That would be sad if there are not videos created for those two years.
Did you attend one of these Jamborees? Is this something you would consider buying? Leave a comment below and let us know of your opinion.