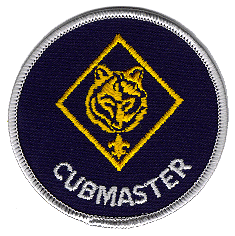 Tis the season for all units… in the Central Minnesota Council to complete their recharters. Begin the caroling and pass the eggnog. The new committee of Cub Scout Pack 68 is about to learn how it is done.
The recharter was one of the things on the agenda at last Monday night's Pack committee meeting. Fortunately, our district executive was on hand to explain how to complete the online registration and answer questions. Unfortunately, our new treasurer announced that he is stepping down from the position because he has accepted a new pastoral position in another part of the state. His family is moving this week.
Although surprised, the pack committee did not panic but started talking about possible parents in the pack who could be recruited as the treasurer and other positions that still needed to be filled. We currently of a great group of parents so the committee plans to speak to them for several minutes during this Monday's Pack Meeting while I take the Cub Scouts in the next room and work with them on a skit to perform for the parents.
There is also one other key three position that the Pack need to fill, the Cubmaster. Although I am registered as a pack committee member this year I have been been the acting cubmaster this fall since no one has stepped up to the plate yet. It is not a position I have sought, but after 30 years as a scoutmaster I thought I could run a few pack meetings until we find someone to take over.
There is only a couple weeks left to complete the recharter. It is down to crunch time. Some of the committee thought they had a candidate to become the cubmaster but he had to decline due to commitments in other organizations to which he already belonged. Where were we to find a cubmaster?
I have been acting as the cubmaster. Notice the word "acting". After a short discussion with the committee I agreed to take on the role of cubmaster, but I would only accept the role for this program year, with the condition that that the pack finds an assistant cubmaster this year who would step into the cubmaster role in May of next year. The committee has a lot to talk to the parents about at Monday's pack meeting.
I have had fun as the acting cubmaster these pass few months, and it has been a pleasure working with the new committee members. I do actually look forward to being the cubmaster for the rest of this program year, this one term. I do not plan to become the permanent cubmaster. I still intend to continue working with the Boy Scout troop. My goal is to be the liaison between the pack and the troop.
Hopefully, Santa will bring us a few more committee members, den leaders, and an assistant cubmaster this month. "Deck the Pack with lots of leaders, fa la la la la, la la la la."