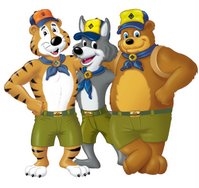 Cub Scout Pack 68 held their Blue and Gold Banquet last night, Tuesday March 25, at the American Legion in Melrose. Pizza was brought in with hot dogs, chips, and desserts provided by the families. The Cub Scouts were pretty excited to receive their achievements during the award ceremony.
I am a member of the pack committee and attended the event for two reasons. First, I wanted to video record the awards ceremony. Second, I wanted to chat with the second year Webelos and their parents to promote moving on to the Boy Scout troop. Unfortunately, only three of the six Webelos Scouts attended the ceremony. I did get to chat with the three boys who did attend, along with their fathers.
Mark, the current cubmaster, will be stepping down from his position in May. His youngest son is one of those second year Webelos who will become a Boy Scout of Troop 68. Mark has been the cubmaster since his oldest son, who is now 14, was a Cub Scout. Near the end of the evening's ceremony Mark spoke briefly of his tenure with the pack and thanked the parents for allowing their boys to be a part of the Cub Scout program.
It was then time for Dave, the committee chairman, to say a few words and thank Mark for all he has done for the pack. Dave's son is also a second year Webelos Scout and will be joining Troop 68. Dave has agreed to join the troop committee.
This means it is time for new leadership to step forward to continue the program of Pack 68. After the meeting I chatted with a few of the parents about filling these leadership roles. One father is seriously considering taking over the position of cubmaster. Another is willing to join the pack committee, and may even be willing to take over as the chairman.
I offered to stay on the committee for another year and offered my home as a place to hold the committee meetings. Mark and Dave have also stated they would be willing to help the new leaders as they learn about their new roles within the pack. Our district executive has offered to come to town and conduct a training session for all the new pack leaders.
It is starting to look like things are falling into place for Cub Scout Pack 68's program to continue strong as things kick-off again with a new program this fall.