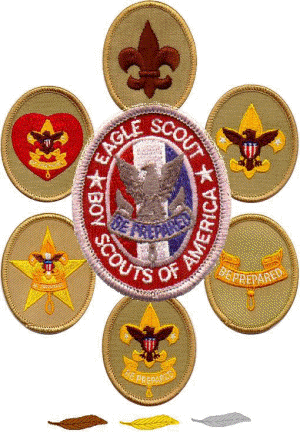 I have recently accepted the position of advancement coordinator for Melrose Boy Scout Troop 68, so I have been checking out the 2013 Committee Guidebook to see what my new responsibilities will be, and how much work I have gotten myself into. Let's take a look.
1) Encourage Scouts to advance in rank.
This one should be easy enough. I was a scoutmaster for thirty years. I was always encouraging the Scout to advance. Now I will do it while wearing a different title.
2) Work with the troop scribe to maintain all advancement records.
This will be an interesting challenge since our troop has never asked this of the Boy Scout who holds the position of Troop Scribe. Do any of you readers have any suggestions that have worked well in your troop?
3) Arrange quarterly board of reviews and courts of honor.
This is an easy one. Our troop already does board of reviews as needed during committee meetings, once a month. Quarterly courts of honor have been a part of our yearly program since the early 1980's.
4) Develop and maintain a merit badge counselor list.
This one is going to require some work. Our council is in the process of updating its counselor list so that will help a little. I think my goal needs to be finding more local counselors. We only have a few within Melrose. I will start with the parents of the Boy Scouts, and then try to find more outside of the troop. I think it would be great to find a local counselor for at least each of the Eagle Rank required merit badges.
5) Make a prompt report on the correct form to the council service center when a troop board of review is held. Secure badges and certificates.
We already do this quite well on the committee. This duty should not be a problem.
6) Work with the troop librarian to build and maintain a troop library of merit badge pamphlets and other advancement literature.
The troop librarian already has a small collection of merit badge pamphlets but it may be time to go through it with him and see if the books are outdated and need replacement, along with what other pamphlets may be needed.
7) Report to the troop committee at each meeting.
When I was the scoutmaster I made regular advancement reports at each committee meeting. The current scoutmaster does the same thing. I guess the main goal here would be to check in with him each month, at least once if not more, to catch up on the latest advancement completed and possible needs. Is there a way to help him achieve more advancement?
One thing not listed as a responsibility but something encouraged by the committee guidebook is to check out internet advancement. Our troop has never used it. As a scoutmaster I could not use it because, at the time, it was not compatible with the Macintosh computer I use at home. No one on the committee back then was interested in taking on that responsibility. I understand that today it should work on a Macintosh computer so I shall have to check it out sometime. Until then we will continue to use the Troop Advancement Report form and turn it into the council office when we pick up the awards.
Are there any other things your troop advancement coordinator does?