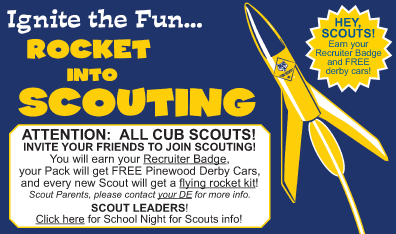 As the Cub Scout program year came to a close last May our cubmaster stepped down from his position. His youngest son has graduated out of the pack. That left the pack without a cubmaster. It also left the pack without an active pack committee. Everyone who was registered as a committee member no longer had sons as members of the pack. The pack had no leadership in place for this fall, and no one had done anything to try to take care of that problem over the summer.
I was a member of the pack committee, but it was pretty much in name only. I was a name on the roster because a third person was needed to keep a pack committee formed. The committee rarely, if ever met. I did try to hold two committee members over my tenure but not much came of them. The cubmaster pretty much did things on his own, but he kept the pack alive.
In August, as I saw School Night to Join Scouting coming closer on the calendar, I finally decided that something should be done to try to get some leadership in place before the new boys and parents showed up to join the Cub Scout pack. I sent out an email to a small list of Cub Scout parents I was able to get ahold of, asking them to come to a parents meeting to start preparing for a new year. I received four replies. Two said they would attend, and the other two stated they would not be participating in Scouting this fall. I did not hear anything from the others.
The night of the meeting arrived. I held onto hope that at least three people would attend. One parent did call to say they were running late. Other than that, no one showed up. At seven thirty I was still the only one. I called the parent back to tell her she should not bother to come to the meeting. At 7:45, one father did arrive. He and I had our meeting times mixed up. The two of us did agree to try another parent meeting in two weeks.
The second meeting was held on Tuesday, September 9. Two mothers and one father attended that meeting. My goal was to get the beginnings of a committee formed and plan a program agenda through December. By the end of the meeting we had a new committee formed (with a chairperson, treasurer, and advancement person), and a preliminary program agenda through next May. One parent had someone in mind to ask about being a cubmaster. Another parent thought there might be one more parent to join the newly formed committee, which by Wednesday evening the committee had another member.
I am very pleased that we have this much in place for Thursday night's School Night. I know I will be heading up the meeting that night but I do not really mind. I want the pack to grow and do well. After all, these are the boys who will hopefully be graduating into the Boy Scout troop in a few years.