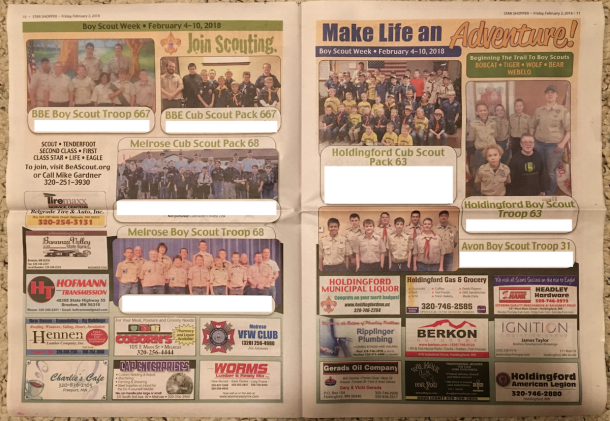 It is nearly time for Scouting Anniversary to begin. Troops and Packs around the country will be participating in the celebration. Many units will start the week by attending local religious services on Scout Sunday, February 4th.
In Central Minnesota we have a local newspaper, the Shopper, that helps support the program by including a supplement for Scout Week. This year it is a four page spread and includes pictures from 7 Cub Scout Packs and six Boy Scout Troops. Melrose Cub Scout Pack 68 and Boy Scout Troop 68 are included in the spread, of course.
We nearly did not make it this year. The troop did not have a recent photo ready to turn in. Luckily, on Saturday January 27th, the troop had an activity that allowed us to get a photo that included most of the current Scouts and adult leaders. The Cub Scout Pack also had to scramble a bit for a photo that included a fair portion of the pack membership.
Not only is it great to see this type of promotion in a local paper, but it is also great to see all the sponsors who have an ad with the spread that paid for the four pages. The packs and troops would like to give a big Scout Salute to those businesses.
Of course, in the name of youth protection, I removed the names of the Scouts before I posted the photos to this blog. You can click on the pictures for a larger view of the photos.
Does your local newspaper do anything like this to celebrate the anniversary of the Boy Scouts of America?