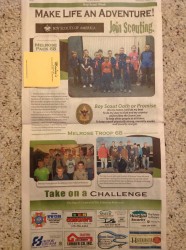 Our local newspaper, the Melrose Beacon, showed their support of the Scouting program last month by printing a full page ad to celebrate the Boy Scouts of America's anniversary. The ad featured photos of Cub Scout Pack 68 and Boy Scout Troop 68. It also featured the Boy Scout Oath and a short description of the goals of the program. (Click on the picture for a larger view.) The newspaper has done a full page Scouting ad for anniversary week for a number of years now.
The Melrose Beacon has been a supporter of Scouting since the troop began in late 1979 when it published a note about organizing a Boy Scout troop in town. I became involved with the troop in May 1980 and soon began writing stories about troop events and submitting pictures from troop activities to the Beacon. The newspaper has always been great about printing these stories. In fact, I must have done a pretty good job of writing them because only once do I remember them editing a story.
The pack and troop would like to thank the following businesses and organizations for picking up the cost of this year's ad: VFW post 7050 (the troop's charter sponsor). Coborn's Grocery Store, Spaeth Sodding and Landscaping, Heartland Security, Freeport State Bank, Kraemer Lumber Company, Melrose Dental Office, and Hennen Lumber Company. This ad would not have been possible without their financial support.
Does your local newspaper support your local Scouting program? Do they print articles and photos of your troop activities?