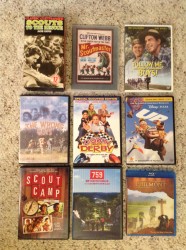 Like many Scout leaders and families I have collected a few Scouting-themed movies over the years. I know my collection is far from complete but it does contain some of what we could call "classics".
Scouts To The Rescue, starring a young Jackie Cooper, is the only VHS tape I own for this collection. It is a twelve part series from many decades ago, 1938. Cooper plays an Eagle Scout of a troop which finds a buried treasure which turns out to be a stash of counterfeit money. Unfortunately, It is the only movie of my collection I have not watched yet since I bought it after I got rid of my VHS player for my television. Some day I will have to transfer it to dvd.
Mr. Scoutmaster is a 1953 comedy featuring Clifton Webb as a television personality who becomes a scoutmaster to learn more about teenage boys when his tv show begins to lose ratings. I saw this on tv a couple decades ago and found someone on eBay who was selling DVD copies. Today there are several online stores which sell this movie.
Follow Me Boys is probably the most well known movie about Scouting. It was released by Disney in 1966 and features Fred MacMurray as he serves as a scoutmaster for twenty years with the same troop. A young Kurt Russell is a member of that Boy Scout Troop. I first saw this movie in 1984 when I attended scoutmaster training at Philmont Scout Ranch. I quickly picked up a copy when it came out on DVD. This movie belongs in everyone's Scouting collection.
The Wrong Guys is a 1988 movie which features popular comedians of the time, including Louie Anderson, Richard Lewis, and Richard Belzer. The plot follows a group of men who where members of a Cub Scout den in their youth as they gather for a camping reunion. Of course, none of them know much about camping. And to top it off, a couple of escaped convicts get mixed up in the story. Not a strong plot but still fun to watch.
Down And Derby is a comedy with a Cub Scout Pinewood Derby at the core of its story. Or I should say how some fathers take a Pinewood Derby too far and try to win no matter what the cost. This 2005 movie features Greg German and Pat Morita. This family film is a great one for this time of year as packs across the country prepare for their own Pinewood Derby. One of my favorite lines from the movie is when one of the Cub Scouts says that he cannot wait to grow up so he can race his own car.
Pixar's Up really is not a movie about Scouting but has a main charater that is 100 percent Boy Scout, or should I say Wilderness Scout? Some of Russell's (the Scout) Scouting knowledge comes in handy as he and the old man Carl have an adventure that takes them to South America. The movie pokes fun of Scouting but does it gently and with respect. This movie is a must for a Scout collection.
Scout Camp, The Movie came out in 2009. It follows the adventures of one Boy Scout troop during their week at summer camp. While some people did not feel that this was a very good movie about Scouting, after all, the Scouts do not always follow the Scout Oath and Law (sound familiar?), I enjoyed it as a fun story. I was surprised to see a wide number of Scouts-types in the film who I could identify as members of my own troop over the years. There was also one or two scenes that struck home a little too closely.
759: Boy Scouts Of Harlem is a 2009 documentary filmed by Justin Szlasa and Jake Boritt as they follow four Boy Scouts from Harlem troop when they attended summer camp. The newest Scout, eleven-year-old Keith, spends his first week at camp and faces the challenges of the woods: the dock test in the deep lake, creatures of the night, and the climbing tower. The film is well done and you really get to know the boys and their leaders during the film.
The last film of my collection is the Philmont Documentary Collection. If you have been to Philmont Scout Ranch in New Mexico you need to have this DVD in your collection. I feel it really captures the sense of what it is like being at the ranch. It not only gives the viewer an in-depth history of Philmont but also follows a Venture co-ed crew and they partake in a twelve day trek. I call this dvd the best thing next to being there. Be sure to purchase the blu-ray version of the film for your HiDef television.
Which of these movies do you have in your collection? Which ones am I missing?