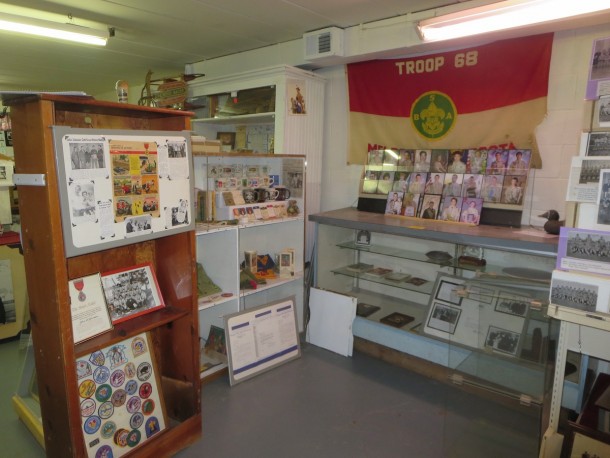 I am not sure how many small town communities have their own museum of local history, but I am happy to say the Melrose has one. The Melrose Area Museum is located in the old St. Mary's convent building, found near St. Mary's Catholic Church and the Lake Wobegon Trail. It features historical artifacts from the communities of the Melrose School District which include Melrose, Freeport, Greenwald, Meire Grove, Spring Hill, and New Munich. Items from the Birch Lake area are also included. Two of the three floors are filled, with the upper floor dedicated to storage.
Over the last few decades several people, along with myself, have donated items related to the local Girl Scout and Boy Scout programs. The Scouting display is found in the same room as the school and sporting items. Recently, a third display case has been added for the Scouting related items.
I have already told Roger, the museum's chairman, that someday the museum would probably get all the Scouting memorabilia that I have collected over the last 35 years. In fact, I kidded that he may need one room in the museum just for all this Scouting related stuff I have. To tell the truth, I bet I could fill up a good portion of that "new room". After all, my own collection features dozens of coffee mugs, 2001 National Jamboree items, three ring binders full of patches, thirty photo books, camping gear, and over a hundred Scouting handbooks and fictional novels. And don't forget the two patch blankets. (Which reminds me, I should get started on the third blanket.)
This post features a few pictures of the current Scouting display in the Melrose Area History Museum. I would like to read your comments about it, and what your community museum has in its display.