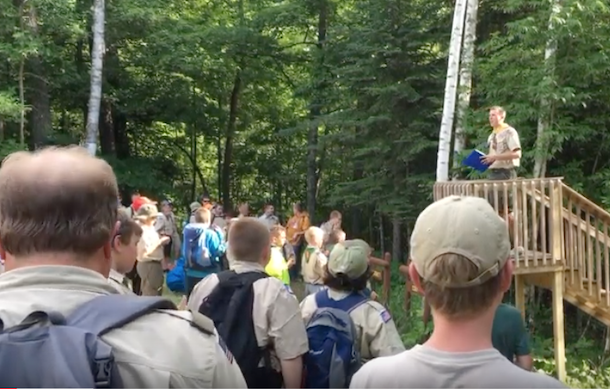 The Boy Scouts of Troop 68 have been attending a week of summer camp at Many Point Scout Camp every year since the early 1990s. They enjoy the program and the staff at the Buckskin Camp. This year, 2019, will be the first year they will change camps as they attend the Ten Chiefs Camp which is located south of the Buckskin Camp. That means the Scouts will not be eating in the Buckskin dining hall this summer. They will be eating their meals in their campsite.
Part of the fun of the Buckskin dining hall is the songs lead by the camp staff before heading into the building to eat. The staff does a great job getting the Scouts fired up and singing.
As I start posting Scouting videos online again I thought I would begin with a video featuring the MPSC staff leading the troops in songs before a few meals. This video was recorded during Troop 68's stay in June 2017. The video is approximately 20 minutes long. Maybe it will give your troop a couple of ideas for their next campfire program.
The video can be seen at: https://youtu.be/c6IEdWK_t90
Don't be afraid to subscribe to the Melrose Scouting Productions YouTube channel to receive notifications when videos are uploaded.