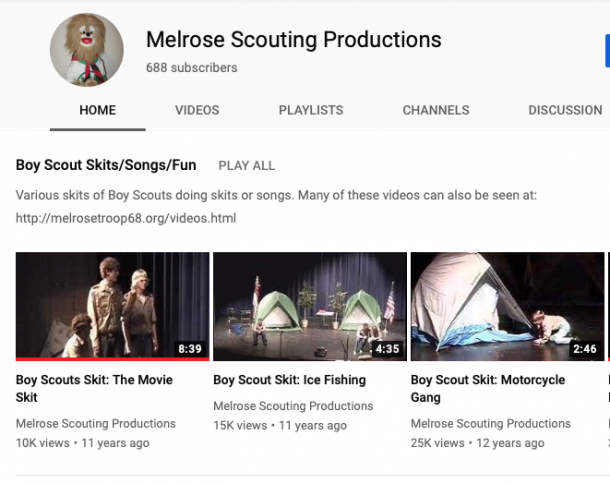 I wrote a post last week about the years that I had a video podcast, and that I was missing podcasting a little. A few of you commented that I should start a YouTube channel and post the videos to that instead of podcasting. I think that is a valid point, especially when you look at all the people watching YouTube these days on their mobile devices and televisions at home. I find myself watching more YouTube videos these days than I watch regular television.
The thing is, I do have a Youtube channel, and many of the videos I posted to the podcast have found their way to the channel over the years. Unfortunately, I have not posted to it lately and I have not mentioned it or promoted it very often during the last few years. There are over 100 videos featuring the Boy Scouts of Troop 68 performing songs and skits, promotional Scouting videos, and short films featuring Buttons, the radical Boy Scout (my puppet.)
I changed the name of the channel today to Melrose Scouting Productions, which is the logo found at the beginning of most of the videos. I thought it might be best to take my "nickname" off the channel title to make it fit the channel better. The channel can be found at
https://www.youtube.com/channel/UClUOxM42AYjgLwGyoqgpx1w
The channel currently has 688 subscribers. There are over 1,700,00 total video views. Take a look at it when you get the chance and let me know what you think of it. I do plan to start posting new videos to the channel soon so don't be afraid to hit the subscribe button.