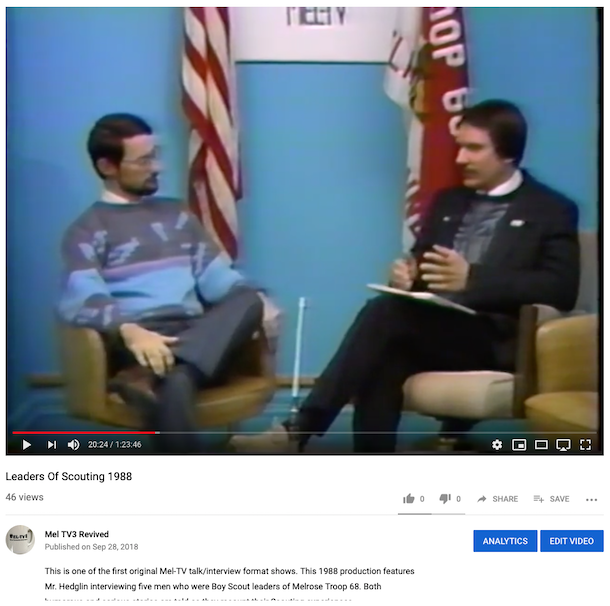 The city of Melrose once had a cable access television station. It started up in 1986 and lasted for nearly twenty five years. It closed when the city decided to keep the cable franchise fees for the general fund instead of giving them to the station for operating funds.
I saw the potential of promoting our Boy Scout Troop on this television channel almost immediately, and decided to make good use of it. I would videotape our courts of honor to air on the station. I would take a VHS video camera with me on outings to create programs to inform people what the Boy Scouts have been doing. We even created some original programming using the Scouts as actors. I joined the station's board of directors and created Scouting related programming for over twenty years.
One of the earliest Scouting related programs was an interview with five of the adult leaders of the Melrose Scouting program. It was titled The Leaders of Scouting. It was filmed in 1988. The guests included cubmasters, assistant scoutmasters, and committee members. I was a producer for the show and thought it turned out pretty good.
After Mel TV closed its doors the city donated all the programming to the Melrose Area Historical Museum. I am now a board member of that organization. The board's chairman and I were talking one day and thought it would be a good idea to create a Youtube channel and post some of these old programs online for the community to watch once again. With the help of Shalon we have been digitizing some of the old VHS tapes and DVDs to post online.
Six programs have been posted online so far. I am happy to report that The Leaders Of Scouting was one of the videos uploaded to the channel. If you have 90 minutes some evening and are looking for something to watch I would like to suggest you watch this video. It is an interesting look at the Scouting program of Cub Scout Pack 68 and Boy Scout Troop 68 in the 1980's.
The YouTube channel is called Mel TV3 Revived. The video can be found at https://youtu.be/cG7bjhYGqp4
Let us know what you think of the show. Do you think we should create a new show since we are now in the 2010s?