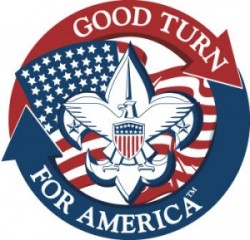 Our local community access television station, Mel-TV, and Boy Scout Troop 68 have worked together during the last 23 years to provide programming about local Scouting. Courts of honor, troop outings, and Laughs For Lunch Shows were regular features. It was a great way to keep Scouting in the public eye.
Due to recent budget cuts Mel-TV closed its doors on December 31, 2010, and the channel went black. I was a member of the board of directors for twenty years but retired one year before the decision was made to close the station. I had invested hundreds, if not thousands, of hours to the station and programming. I was sorry to see it close down. It was a great asset to the community.
During the last six months of 2010 the board of directors began the process of shutting things down. Some of the thousands of video tapes and dvd's were given to another local television station, but most of them went to the Melrose Area Historical Society. The equipment was divided among several local organizations. The Boy Scout troop was offered some things. We ended up with a set of lights, a tripod, a microphone and stand, and the music library.
Monday evening, during the troop meeting, a member of the Mel-TV board walked in and handed me an envelope. He explained that the remaining funds needed to be distributed to various non-profit organizations. I joked with him about getting a new iPad 2. He asked how much one would cost. When I told him he replied that there was enough to buy one. Imagine my surprise when I opened the envelope and found a check for $1000.00.
This donation to the troop comes at a great time. The committee has been talking about replace some of our twenty year old equipment. This check will go a long way toward doing that very thing.
As for the iPad 2? I do not think that would be the best use of this donation. Sorry about that Mr. Jobs.