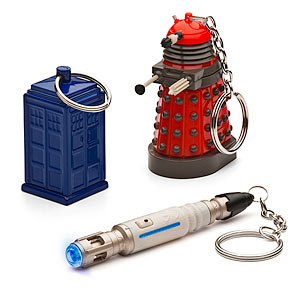 Okay, I admit that I am a bit of a geek. I admit I like the Doctor Who television series. And of course I admit that I like Scouting. So I had to smile when I was directed to this site about Doctor Who keychains and discovered Boy Scouts mentioned in the description of the products. It read:
Be prepared with these timey wimey keychains
The Boy Scouts aren't the only ones out there being prepared. The Doctor is always prepared for anything that might come his way. And if there's a problem he can't fix with his sonic screwdriver, he goes all MacGyver with whatever's around. We figure if we have any chance of saving the world like the Doctor (or at least our own butts), we'd better equip ourselves properly.
If you are a Scouting and a Doctor Who fan you may want to check this out before it disappears like the TARDIS moving on to a new adventure.
http://www.thinkgeek.com/geektoys/collectibles/e5c8/?cpg=wnrss