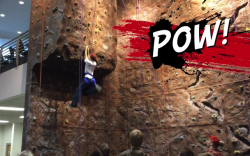 The Boy Scouts of Melrose Troop 68 had a busy one day activity during the month of November. It was a two part outing. The first part was a trip to the St. Cloud State University climbing wall where the Scouts had fun testing their skills on seven different climbs, from easy to quite challenging. Even one of the mothers took the opportunity to give it a try. Everyone had a great time and a good workout.
The second part was the overnighter held at the residence of one of the Scouts. The Scouts played games, watched movies, and ate plenty of food. Several of the boys fell asleep after 2:00 am but a few stayed awake the entire night. The Scouts left for home at 7:00 in the morning.
I attended the outing as one of the adult leaders. Of course, I brought along my digital camera and my new iPad Air. While the Scouts were climbing, I gave my camera to one of the other adults to take pictures so I could record video with the iPad. I ended up with nearly 30 minutes of video.
Several hours later, while watching the Scouts play video games, I decided to open the iMovie app on the iPad Air and play around with creating a trailer using the video I took that afternoon. It was my first time using the app on the tablet. It take not take very long to learn how to use it and create a short trailer.
I was happy with how it turned out so I thought it might make a nice addition to the Melrose Scout Productions Podcast. I hope you enjoy watching it. Leave a comment and let me know what you think of it.
Video Information: 720 x 404, time 01:05, 17.6 MB, m4v format.
Click here to DOWNLOAD and watch this Podcast.
Subscribe to the Melrose Scout Productions Podcast at
http://feeds2.feedburner.com/melrosescoutingproductions
or through iTunes. (If you use iTunes, don't forget to rate the podcast.)
Don't forget to leave a comment below, or at the iTunes store. It is great to read what you think of these videos.