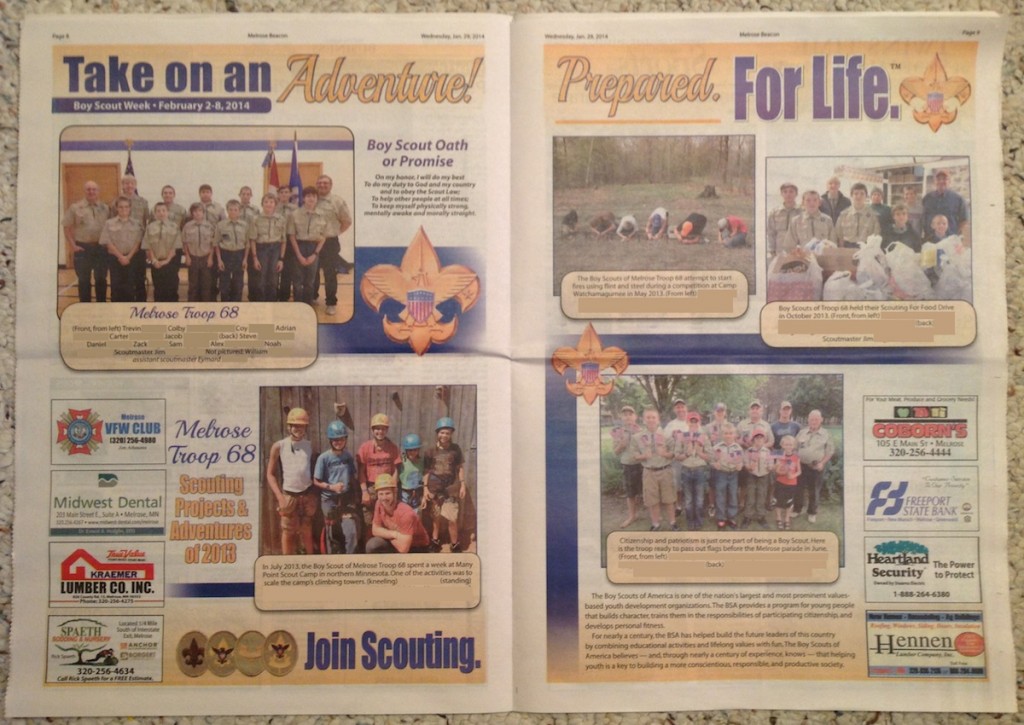 It is that time of year again. Next week the Boy Scouts of America will celebrate its birthday. For 104 years boys and young men have enjoyed participating it the exciting program Scouting offers. I was one of those boys in the 1970's. I enjoyed the program so much that when I was 19 years old I rejoined my hometown troop as an assistant scoutmaster. Shortly after I reached the age of 21 the troop committee appointed me as the scoutmaster, a position I held for over 30 years. I currently serve as a committee member.
Our local weekly newspaper, the Melrose Beacon, has been a great supporter of Scouting for over 30 years. They have printed hundreds of articles I have submitted, along with hundreds of photos of the Scouts enjoying their program. They have recognized nearly every Eagle Scout of Troop 68 with his own article.
In today's issue of the Melrose Beacon there is a two page spread recognizing Scouting in our community. Five photos are included of the Boy Scout having fun on outings and doing service in the community. I think the editors did a great job putting this together. (Click on the picture to see a larger version.)
The troop would like to thanks the Melrose Beacon for once again recognizing Boy Scout Troop 68 during Scouting Anniversary Week. We would also like to thank the sponsors of the spread: the Melrose VFW Club, Midwest Dental, Kraemer Lumber Co., Spaeth Sodding and Landscaping, Coborn's Grocery, Freeport State Bank, Heartland Security, and Hennen Lumber Co.
Has your local newspaper done anything like this?