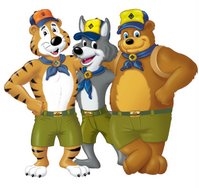 As I mentioned in the last post to A Scoutmaster's Blog, I have been helping to reorganize the pack leadership. We now have what I feel is a strong committee of four committed parents. I also plan to stay on the pack committee to lend my assistance and support during this program year. I guess that means we have a committee of five.
Last night we held a pack committee meeting to prepare for next Monday's pack meeting, the first one of the new year, and the first one featuring the new leadership. Unfortunately, one adult leadership position is still unfilled. While we were planning the pack meeting agenda one of the committee members asked who was going to be running this meeting. After all, we still do not have a Cubmaster.
I raised my hand and said I would act as Cubmaster for this first pack meeting. I also explained that was the reason I was trying to get the committee to come up with a detailed agenda. If I was going to be the acting cubmaster I wanted to know exactly what I needed to prepare for. We all know what the Boy Scout Motto is, correct?
I could see a sigh of relief go through the committee when I offered to be the face of the pack meeting. I think we have a good agenda planned. Something patriotic. Something Cub Scouting. Something about the dens. Something to recognize the new Scouts. Something to present to every Cub Scout. And even a couple of loud songs for the boys and families to sign along.
This is going to be completely different for me. I am used to working with 11-18 year old boys. I have noticed that  Cub Scout age boys are a completely different breed of cat. I will admit that I am a bit nervous. Can I do a good job of pulling this off? I think I can, but we will all find out on September 29th.