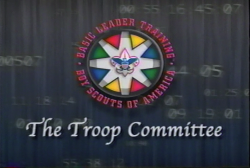 The last two posts to the Melrose Scout Productions Podcast contained the first and second parts of an eleven year old Boy Scout Leader Fast Start Orientation vhs tape I have in my Scouting collection. This post features part three, the last part of that training tape which covers the Troop Committee. Who makes up the committee? What does the committee do? What are they responsible for? Are they really necessary? It is an excellent video that is still relevant to today's Scouting program.
I think it is fun to watch these old videos to see how, or if, Scouting has changed through the decades. What do you think about it? Have you seen this before? This is a great video to watch if you are new to the Boy Scout program.
Click here to DOWNLOAD and watch this Podcast.
Subscribe to Melrose Scout Productions Podcast through iTUNES  (and rate the show)
or at http://feeds2.feedburner.com/melrosescoutingproductions
Don't forget to leave a comment below, or at the iTunes store.