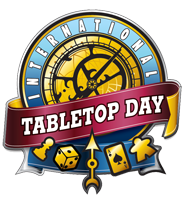 A friend of mine recently posted a link on Facebook to something called International TableTop Day which will be held on Saturday, April 5th. I have never heard of this but it caught my interest so I decided to check it out. It is pretty much just like it sounds. Here is a short quote from the website:
International TableTop Day is a celebration for all the fans of tabletop gaming. A single day where the whole world is brought together in a common purpose of spending time together and having fun. We hope you find the resources you need — to connect new fans to experienced group organizers, retailers with their community, and publishers with the international community — all in one place.
This sounds like an event that would be right up my alley. I like to play board games, card games, and Dungeons and Dragons. Gosh, they all happen to be tabletop games! I enjoy the thrill of competing against my friends as we sit around a table playing Munchkins or Risk. Of course, I also prefer to win, but as they say, you can't win them all.
As I considered this event I thought this could be an excellent activity in which Cub Scout packs and Boy Scout troops could participate, even if it was just within their own units. I can vision dens of Cub Scouts playing Sorry, CandyLand, Pokemon, or various card games. I can see Boy Scouts playing Monopoly, Scrabble, Magic, or D&D. I see scoutmasters and cubmasters being beaten at their own games by competitive Scouts of all ages. Could you imagine local packs and troops getting together for this one day of gaming that does not involve a video screen?
What do you think of this? Would your troop or pack be interested in joining an event that is international?