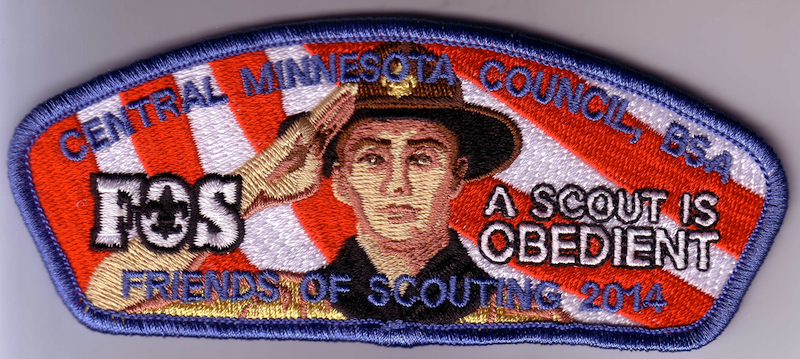 Yep. It is that time of year. Boy Scout councils are conducting their annual Friends of Scouting campaigns to raise money to support the local council and its program. Our district executive from the Central Minnesota Council visited our troop's court of honor on Monday, March 24th. The troop almost met the goal set by the council, and still may. A few of the parents took the forms home with them to consider how they could financially support the council.
In our council, as I am sure in many councils across the country, there are various tiers at which a donor is recognized for their financial gift. For several years now, the Central Minnesota Council has presented donors with a special council shoulder patch for meeting the first level of support. These patches have featured a design based on a Norman Rockwell painting. The year's patch was based on the painting of a Boy Scout saluting. I am not quite sure of the name of the painting, but it might be called We, Too, Have A Job To Do from 1944. As you can see from the picture, it is a fully embroidered patch, not a print like two patches a few years ago.
At another gift level the donor would receive a framed print of this Norman Rockwell painting. I think it was ten years ago that the council last offered this print. My home office wall displays 15 different framed prints offered by the council over the years. There is not much room left for any new ones.
I think the council did a good job with this year's patch. I am happy to add it to my csp collection. This patch takes us nearly to the halfway point of the Scout Law. I look forward to seeing what the next seven years of patches will look like.
What sort of incentives does your council offer during its Friends of Scouting campaigns?