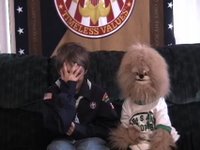 In May I posted the first video featuring Buttons, the radical Boy Scout, and Michael, the giggling Cub Scout. Michael was trying to teach Buttons a little about Cub Scouting. Unfortunately, Buttons did not quite understand and the giggling began.
Today's post to the Melrose Scouting Productions Podcast pairs up the two again. In this video Michael is still trying to teach Buttons the Cub Scout Oath, but this time they get sidetracked and begin to talk about the Cub Scout Law. The two work well together and play off each other very well. This is the second of three videos that were made with Michael and Buttons.
So, click a link, sit back, and enjoy another episode with Buttons, the radical Boy Scout. If you have any ideas for a new video featuring Buttons leave a comment. We love to hear from you.
Download Podcast
Watch Video on the troop's website.
Subscribe through iTunes.