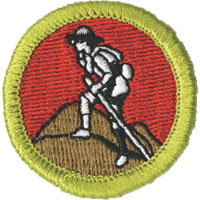 The end of the 2011 "100 Days Of Scouting" has arrived. This is the second year of the blogging event, but the first year for me. Twenty four blogs participated this year, including Scoutsigns, the originator of 100 Days of Scouting.
Did I post 100 articles to A Scoutmaster's Blog during this time period? No, but I did find myself writing more stories then I probably would have. I ended up posting 73 articles during the event. I always had the 100 Days in mind, but I forgot to add the tag to many of the posts. (I wonder if anyone was 100 for 100.)
I hope you enjoys reading my stories, and I hope you checked out some of the other bloggers who participated. For a list of everyone involved check Scoutsigns by clicking HERE. Take some time to read the blogs and I am sure you will get a good feeling of how Scouting is going across the country.