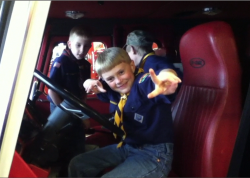 The Cub Scouts of Pack 68 had a special field trip on Tuesday, April 26, 2011. Two members of the local volunteer fire department gave the boys a tour of the firehall and of the trucks used by the fireman. The Scouts were able to see some of the equipment used by the men.
After the tour, the boys received an awesome treat when they were allowed to sit in the firetrucks and see what it is like behind the steering wheel of these large trucks. They enjoyed themselves, and I am sure this is one day they will remember for a long time.
Click here to DOWNLOAD and watch this Podcast
Or watch it at Melrose Scout Productions Podcast channel at PTC Media.
Subscribe to Melrose Scout Productions Podcast through iTunes (and rate the show)
or at http://feeds2.feedburner.com/melrosescoutingproductions
Leave feedback here, or at iTunes.