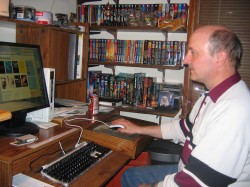 I am not really sure why I started doing it. Maybe it was to keep a kind of online journal. Maybe it was to see if anyone would be interested to read what I had to share. I did know I did not want to write about how a Scouting leader should be trained or how an adult could be an effective leader. There were already blogs about that subject. I just wanted to share my thoughts and experiences.
My first post to "A Scoutmaster's Blog" appeared on May 18, 2006, eight years ago! Blogging was just starting to gain in popularity. There were not many blogs about Boy Scouting at that time. I wanted to keep mine fun and, hopefully, entertaining. There have been a few changes over the years. I switched from Blogger to WordPress, which has worked out well. Two podcasts became a part of the blog. I have even had a few guests writers.
One of the biggest changes was when I stepped down as the scoutmaster of Boy Scout Troop 68 at the end of 2011. I gave a lot of thought to changing the name of this blog but finally decided to leave it alone. Some of the names I had thought about changing to were already taken by others. Besides, I will still be writing from a scoutmaster perspective. It is hard not to after holding that role for over 30 years.
I am still very active with Troop 68. That means I will still have things to write about. Hopefully, you will continue to find these posts fun and entertaining, and maybe even gain a bit of knowledge or two. Who know, maybe there will be a tenth anniversary of "A Scoutmaster's Blog". That is not that far away anymore.