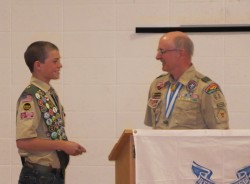 On Sunday, May 4th, there was a court of honor held for Melrose Boy Scout Troop 68's newest Eagle Scout. Alex is the 22nd Scout to attain this honor since I began serving as an adult leader of troop in 1980.As far as I know, there was only one Eagle Scout in Melrose before 1980, thus Alex would be the troop's 23rd Eagle Scout, historically.
Twenty Boy Scouts earned the rank of Eagle Scout while I was the scoutmaster of Troop 68. The last two, Thomas and Alex, were Boy Scouts during my last years in that role. It is great to see them continue the advancement trail and received Scouting's highest higher. In another two or three years I hope to see the first Eagle Scouts of Troop 68 who joined Scouting after I retired as the scoutmaster. That will fell a little different but no less important.
Alex asked me to serve as the master of ceremonies for his court of honor. This was the first time I have ever served in the role for such an event. As the scoutmaster I would usually get a chance to speak about the Eagle Scout and his accomplishments during the ceremony. I presented the Eagle Scout rank at several of them or was asked to serve in some other role, but I was never a master of ceremonies. And you know something, that was fine with me.
This court of honor was going to be a slightly different experience, but I was looking forward to it. One of the duties, of course, was to introduce the guest speakers and presenters. There was also a spot on the program for me to talk about Alex and his Scouting accomplishments, so that part of things has not changed.
As I have for the last twelve Eagle Scouts, I presented a video featuring pictures of the Eagle Scout's years in the troop along with some family pictures. Alex picked out the music himself, and brought along a few pictures he wanted to include in the video. I also snuck in one or two that he did not know about until he saw the video during the court of honor. This video will be posted to the Melrose Scout Productions Podcast later this year.
I also video recorded the ceremony. I will edit it and burn it to dvd as I have for nearly all of the Troop 68 Eagle Scouts. The dvd is a great way to remember this important moment in the Scout's life. His parents will also receive a copy.
Alex's Eagle Scout court of honor went very well. A lot of people were in attendance. There were good guest speakers, and four previous Troop 68 Eagle Scouts attended and took part in the ceremony. I think the younger Scouts were quite impressed with the whole ceremony, as were many of the family members and guests. I had a good time being the MC, and I was told a did a good job. I do believe I talked to much at one point but you know, I could have talked for much longer. Alex is a good Eagle Scout. There is always a lot to say about good Eagle Scouts.