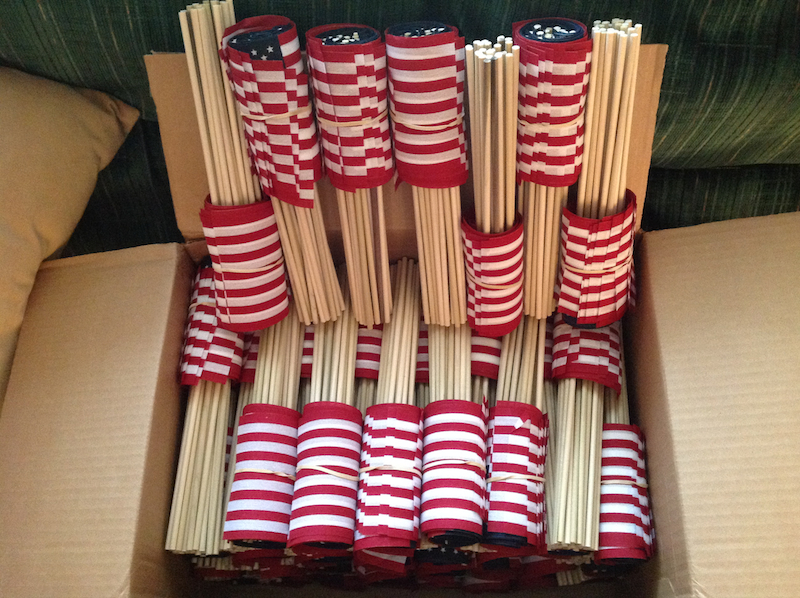 The Boy Scouts of Melrose Troop 68 will be doing it again this summer. I believe this is the fifth time they will be doing it. The Scouts have fun and the people in the community enjoy it. What am I talking about? The Boy Scouts will once again be handing out small U.S.A. flags along the parade route before the parade begins in Melrose on June 28th.
We ordered this year's "made in America" flags from the United States Flag Store. The ones we chose are the 4″ x 6″ stick flags that they currently have on sale for only $0.17 each. They are manufactured at the factory in Pennsylvania, printed in bright colors on cotton fabric, and securely stapled to a 10 inch natural wooden stick. We ordered these last year and people along the route really liked them. They can be found at
http://www.united-states-flag.com/usa-stick-flag-4×6-no-tip.html
When we first started doing this project several years ago we bought the cheapest flags we could find which were made out of plastic. Unfortunately, they were not made in the U.S.A. and by the third year people started refusing to take a flag because they were not American made. They had a good point, but we had a limited budget. So, do we buy American made and order half of number of flags, or do we keep ordering the ones not made in America?
Thankfully, when we were ready to purchase flags last year, the United States Flag Store ran a sale just at the right time. We could order the quantity of flags we wanted and stay in budget. The Scouts handed out all 1500 flags before the parade. Unfortunately, the flags did not say "made in America" on them, so when people asked the Scouts had to tell them they were made in Pennsylvania.
The flags for this year's parade arrived last week, another 1500 of them, paid for once again by Melrose VFW Post 7050. I checked them out and once again they are not stamped that they are made in America. They are great flags, but I really wish they were stamped. It would be nice for people to know they were made here in the U.S.A. without having to ask about it.