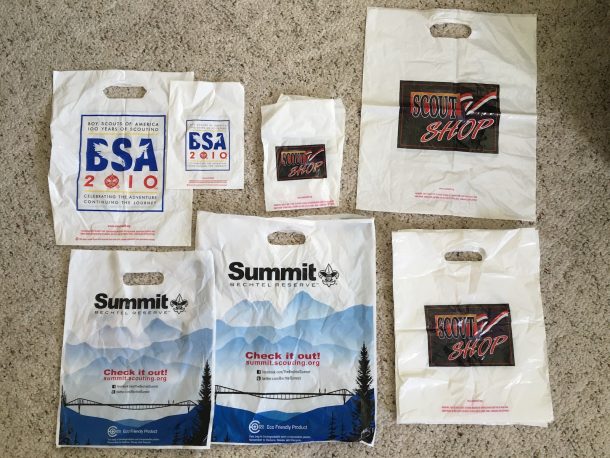 When you are collecting things you sometimes accumulate other things while working on that collection. This is one example of that.
I was cleaning out a few cabinets in my kitchen the other day and came to the one in which I was keeping bags left over from shopping. While most of the bags were paper bags from grocery shopping there were quite a few plastic bags. As I pulled them out I realized that a theme was starting to form.
Several of the bags were Scouting themed. Most were from the local Scout Shop, but a few were from other Scouting events. What I found to be the most interesting was a few of the bags were kind of older, as you can see in the picture. After I took this picture I found one more that was from the 2001 National Jamboree.
At first I was going to put them in the recycle bin, but for some reason I did not. I folded all the bags and placed them into one bag and put the collection back in the cabinet. I am not sure why I did that. Maybe the collector in me said I just could not throw that collection of bags away.
Not yet anyway….