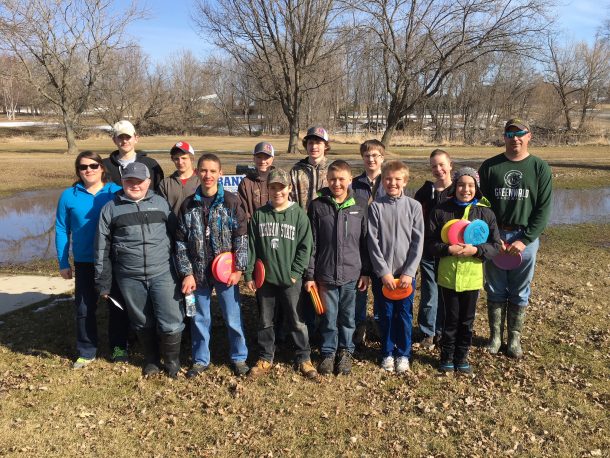 The very first time Boy Scouts of Melrose Troop 68 played disc golf was when they attended a week at Crow Wing Scout Reservation in the summer of 1981. The camp had a nine hole course set up near the beach area. There were not any baskets at this course 37 years ago. The Boy Scouts had to hit poles with their discs in order to complete a hole.
Things have changed in the sport since that first camp. Disc golf courses now have baskets and many have tee pads. Many Boy Scout camps have courses, as do many towns and cities. The sport has been growing and tournaments are held in several central Minnesota cities.
The Scouts of Melrose Troop 68 have enjoyed the sport since those early years in the 1980's. In fact, for the last few years, the troop has held a disc golf marathon as one of their monthly activities. They will usually play at two or three courses in central Minnesota, taking up most of a Saturday morning and afternoon.
This year's marathon took the Scouts to three courses in the area, including two that have been recently installed. This year's marathon, which was held on April 21st, began at the course in Albany, at which the twelve Scouts played a round of 18 holes. After lunch they moved on to the new Upsala course which was installed last summer. The final nine holes were played at the Long Prairie course, which was created a few years ago.
The Scouts kept their scores at all three courses. After the last disc was thrown, all the scores were added together to create a marathon total. The three Scouts with the best marathon score each received a three pack of disc golf discs. This year's best scores were (3rd place) Jacob, (2nd) Luke, and (1st) Carter. Even though not every Scout received a prize, they did all agree they had fun and a great time.