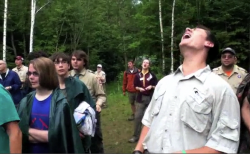 Join the Boy Scouts of Melrose Troop 68 as they attend Many Point Scout Camp during the week of July 10-16, 2011. This video of Melrose Scout Productions Podcast includes a look at their campsite in Buckskin Camp, along with a couple of the songs led by the staff before the Boy Scouts would go to the dining hall for their meals. The songs include The Duck Song and Herbie, the Family Pet.
Click here to DOWNLOAD and watch this Podcast
Or watch it online at Melrose Scout Productions Podcast channel at PTC Media.
Subscribe to Melrose Scout Productions Podcast through iTunes (and rate the show)
or at http://feeds2.feedburner.com/melrosescoutingproductions
Leave feedback here or at iTunes.
How was your summer camp this year?